Positioning Your Mutual Fund Portfolio for 2021

Mark Ilao
Head of COL Fund Source
Key Points
In a difficult 2020, bond funds and money market funds performed strongly as investors sought stable investments that provided fixed income. However, that trend may change going into 2021 as stock market sentiment improves. Mutual fund investors heavy on bond funds or money market funds should consider switching some of their holdings to equity-related funds.
As we all know by now, 2020 has been a tumultuous time for many businesses and investors, but you might be surprised to find out that not all investments went under water this year.
In fact, looking at the average returns of different mutual funds, Bond Funds and Money Market Funds provided decent returns as this year saw investors looking for stable investments such as fixed income products or funds.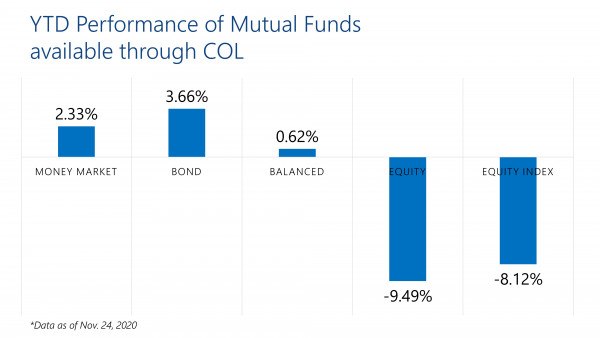 With inflation just averaging 2.5% this year, the BSP had room to cut policy rates aggressively from 4% at the start of 2020 to an all-time low of 2% this month. Because of this, market interest rates generally went down, with the 10-year government bond yield currently sitting at 2.9% compared to 4.4% at the start of 2020. This supported the appreciation of bond prices, allowing bond funds to provide positive returns for investors.
On the other hand, the stock market—as represented by the PSEi—is still down by 9% for the year as many listed companies reported huge declines in their net income or even losses due to the lockdown measures.
It did not help that the composition of stocks here in the Philippines does not have much exposure to tech or health-related industries, which were the industries that did really well in the midst of the pandemic. Because of this, stock investments continued to underperform relative to bond investments dating back to 2018: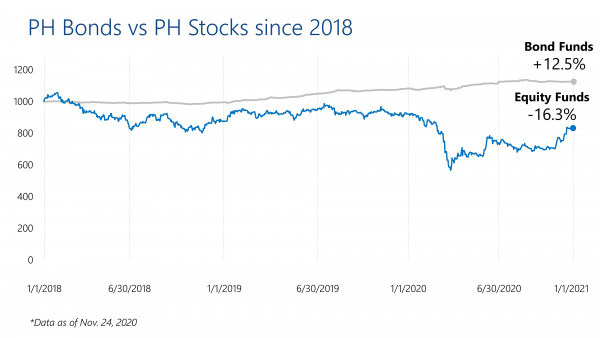 However, it is our view that this trend is about to change going into 2021, with investor sentiment shifting towards stock investments due to the following reasons:
1. A low interest rate environment means moderate returns for bonds.
While the BSP is expected to keep interest rates low, the current market interest rates are already close to all-time lows. Even if they were to trend downward, the positive effect for bonds would be marginal at this point. This means that investors who are looking for higher returns would favor stocks moving forward.
2. The expected economic and corporate earnings recovery is seen to support stocks.
A lot of people are surprised over why the stock market is already running up while the economy is still weak—but what we have to remember is that markets are forward-looking, and they do not reflect the present. With the availability of vaccines, easing of restrictions, and hopefully sustained lower number of new cases, 2021 is poised to be a better environment for businesses and stocks in general.
3. Under-owned stock markets like the Philippines is seen to benefit from foreign fund flows.
Foreign investors have been selling their positions in local stocks (YTD tally stands at -P112.1B) as they abandoned markets with mostly cyclical and vulnerable businesses and went instead to tech-related stocks/markets at the height of this pandemic. With expectations that economies will eventually reopen to a wider degree next year, those cyclical and traditional businesses stand to benefit the most and so foreign flows may find their way back again to markets like the Philippines. In fact, the PSEi has been the best performing market in the region since 4Q20 started: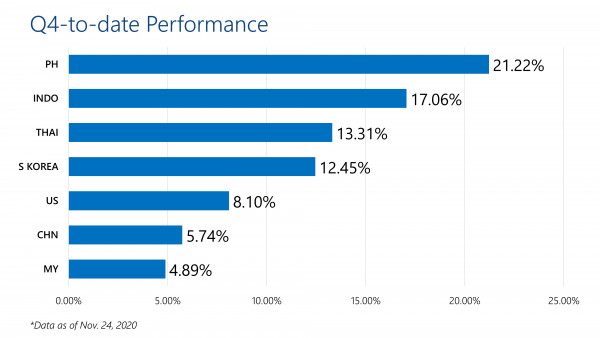 What to do with Your Mutual Fund Positions
Taking all of these into account, it is practical for mutual fund investors who have the risk appetite to switch some of their bond fund or money market fund positions in favor of equity-related funds.
While there is no rush for investors to put everything at once in equity-related funds, a regular buying approach—especially when the market is taking a breather—would be the most prudent approach at this point.
Additionally, this does not mean that bond funds or money market funds have no place in your portfolio anymore since they are still appropriate for serving your short-to-medium term needs, in addition to helping manage your overall risk. Nonetheless, if you can increase your equity exposure going forward, 2021 looks to be a promising year for stocks.
As we approach the closing weeks of 2020, may we all be able to take this time to review our portfolios and welcome the coming year with better control of our investments.
This article is part of Your Investing Journey - COL's monthly email newsletter that contains insights and strategies by the COL community to help you achieve your financial goals. Click here to read more articles like this.
COL Financial is the country's most trusted wealth-building partner where more than 400,000 Filipinos invest in stocks and mutual funds. COL was founded on the belief that 'every Filipino deserves to be rich'. That is why, for twenty years now, we remain committed to help Filipinos build wealth by continuously providing free seminars, expert guidance and innovate tools.